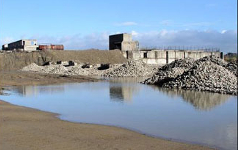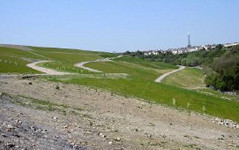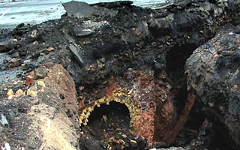 Brymbo Steelworks
---
Remediation of industrial contamination from lead smelting, iron and steel making, coal mining, coke manufacture and waste disposal across 200 ha of land.
Excavation, screening and re-profiling of 1.8 million cubic metres of industrial wastes and overburden.
Removal of heavy concrete foundations, road tunnel, unstable slag banks, mine shafts and shallow workings.
Disposal of 16,000 m3 of hydrocarbon-contaminated wastes.
Creation of 25 ha of land for infrastructure, residential, community, commercial and industrial development.
Release of residential development land for over 600 new homes, apartments and a school.
Remediation of heritage areas and buildings, and creation of wildlife habitats and public open space.
Containment engineering to hazardous waste landfill.
SGP environmental consultancy tasks
desk study and intrusive site investigations including collection of over 500 samples
quantitative environmental risk assessments and reviews throughout project
remedial strategy and approval of soil and water targets
approval of method statements for waste testing and reuse, water quality monitoring and assessment, dust and air quality monitoring, coke ovens remediation, and landfill gas monitoring
environmental monitoring of mine drainage levels, surface waters, fugitive dust, noise, landfill gas by site chemist over 3 years
acid mine drainage and slag bank leachate monitoring and design of water treatment
slag stability assessment and waste testing for leachable substances validation testing and completion reports for 10 development modules
Key facts
Programme
1995 SGP investigations commenced
2001 Preparatory site works commenced
2003 Full site remediation commenced
2005 Principal remediation completion
2006 Housing construction commenced
Project cost - £18 million
Main development modules - Client / Contractor: Parkhill Estates / Brymbo Developments Ltd. Public sector areas – Brymbo Developments Ltd. contracted to Wrexham County Borough Council, funded by Welsh Development Agency land regeneration grant.